Join OPERO Hotel Family.
Welcome to OPERO Hotel Southkey, your sanctuary of comfort and professional hospitality located in the vibrant heart of the city. We focus on providing a remarkable experience by offering a combination of comfort, convenience, and a plethora of amenities tailored to suit our valued guests' varied needs.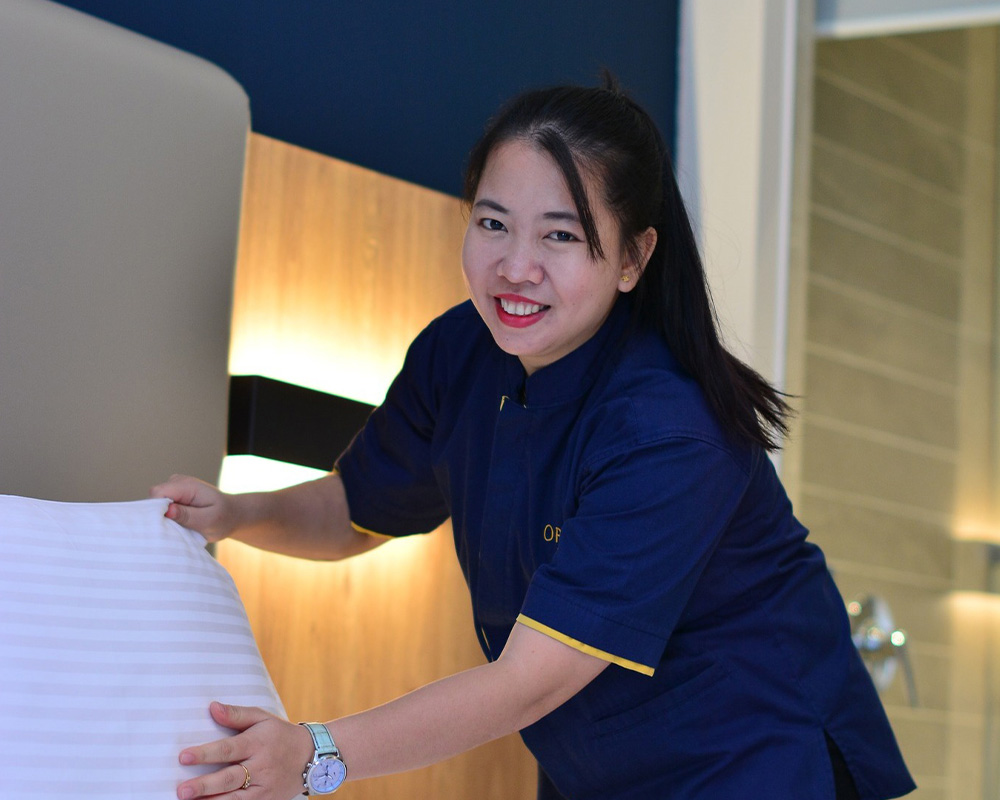 BECOME A PART OF OUR DYNAMIC TEAM.
At OPERO Hotel Southkey, we believe that our success is driven by the talent, dedication, and enthusiasm of our team members. As you explore our career opportunities, you'll discover a world of possibilities in the realm of hospitality. Whether you're an aspiring culinary artist, a seasoned hospitality professional, or someone who thrives on creating meaningful connections, our diverse range of roles offers a chance to shine and contribute to our legacy of exceptional service.
Annual leave starting from 14 days.
Group term life for 60 months of last drawn salary.
Cash benefit for Marriage and New Born from RM200 and above.
Uniform and duty meals.
Retention and Succession training.
Minimum of RM1,000 and above for outpatient medical, dental, and vision benefits including family.
OPERO HOTEL VACANCIES.
Discover a diverse range of career paths across OPERO Hotel Southkey departments that embody our commitment to excellence and exceptional hospitality.
Front Office
Step into the heart of hospitality excellence with our Front Office team. As the face of OPERO Hotel Southkey, we pride ourselves on creating lasting first impressions for our guests. Join us in delivering unparalleled service, managing guest interactions, and ensuring seamless check-ins and check-outs that leave a positive and lasting mark.
Housekeeping
Join our dedicated Housekeeping team at OPERO Hotel Southkey and become a key player in delivering outstanding experiences to our guests! Our Housekeeping Department is responsible for maintaining the cleanliness, hygiene, and comfort levels that our guests love. We are looking for meticulous and service-oriented individuals who can ensure our rooms are spotless, welcoming, and well-stocked with all the essentials.
Food & Beverage
Elevate culinary experiences at OPERO Hotel Southkey by joining our vibrant Food & Beverage Department! We are in search of passionate and dedicated individuals who are eager to contribute to our renowned dining services. Our team is committed to delivering exceptional culinary creations and exquisite beverage selections in a warm and welcoming atmosphere, ensuring every guest leaves with a memorable dining experience.
Kitchen
Dive into the epicenter of culinary creativity at OPERO Hotel Southkey by becoming a part of our dynamic Kitchen Department! We're scouting for passionate culinary artists who are committed to crafting extraordinary dishes that captivate our guests. Our kitchen is where ingredients are transformed into delightful experiences, and every meal tells a story.
Executive Office
Step into the strategic helm of OPERO Hotel Southkey by joining our Executive Office. We are on the lookout for dedicated professionals who can contribute to the overarching vision and leadership of our establishment. The Executive Office is where pivotal decisions are made, strategies are forged, and the future of our hotel is shaped.
Finance
Dive into the fiscal heartbeat of OPERO Hotel Southkey by joining our meticulous Finance Department. We're seeking analytical minds passionate about numbers and financial strategy. Our team is pivotal in ensuring the hotel's financial health, sustainability, and growth.
Information Technology (IT)
Delve into the digital backbone of OPERO Hotel Southkey by joining our cutting-edge IT Department. We are in search of tech-savvy professionals passionate about leveraging technology to enhance both guest experiences and operational efficiency. Our IT team is instrumental in ensuring seamless integration of technology throughout the hotel, from guest reservations to in-room entertainment and beyond.
Sales & Marketing
Step into the vibrant world of brand building and guest outreach at OPERO Hotel Southkey by joining our dynamic Sales & Marketing Department. We're scouting for creative and driven individuals who can help amplify our brand's voice and expand our market reach. This team plays a vital role in crafting the narratives that entice guests and positioning our hotel as a top choice for travelers.
Engineering
Dive into the operational backbone of OPERO Hotel Southkey by joining our dedicated Engineering Department. We're on the lookout for skilled professionals who are passionate about ensuring the smooth functioning and safety of all hotel facilities. Our team plays a crucial role in maintaining the hotel's infrastructure, ensuring guest comfort, and responding to any technical challenges.
Security & Safety
Discover OPERO Hotel Southkey's commitment to safety and security. Our dedicated Security & Safety Department ensures a serene and protected environment for guests and staff alike, employing state-of-the-art measures and trained professionals. Learn more about our unwavering dedication to peace of mind.